Posted by Capt. Tom Migdalski on 3rd Jan 2022
Snook, Seatrout, and Redfish Deliver

World-Class Light-Tackle Action in Charlotte Harbor
Almost every angler knows "Boca Grande" is synonymous with "Tarpon Capitol of the World." Technically, Boca Grande—Spanish for "Big Mouth"—is the natural, 300-yard-wide pass separating the Gulf of Mexico from the sheltered waters of Charlotte Harbor on Florida's southwest coast. Most people, however, refer to the entire region, including the pass, the harbor, the nearby Gulf, the town, and the two large islands that form the pass—Gasparilla and Cayo Costa—as Boca Grande. But in Charlotte Harbor, silver kings aren't the only game in town.
The harbor is also famous for its world-class redfish, seatrout, and snook fisheries. Known locally as the "Harbor Slam," they teem within the 270 square miles of the harbor, which boasts the least developed shoreline in Florida. Here you'll find vast expanses of turtle grass flats ranging in depth from several inches to eight feet. The flats are broken with stretches of shoals, oyster bars, holes, channels, and backwaters that create a light-tackle angler's paradise. It's a very fishy place. Capt. Danny Latham (www.reelfishing.com), is one of the leading and most knowledgeable guides in southwest Florida, and he shares some of his shallow-water strategies here.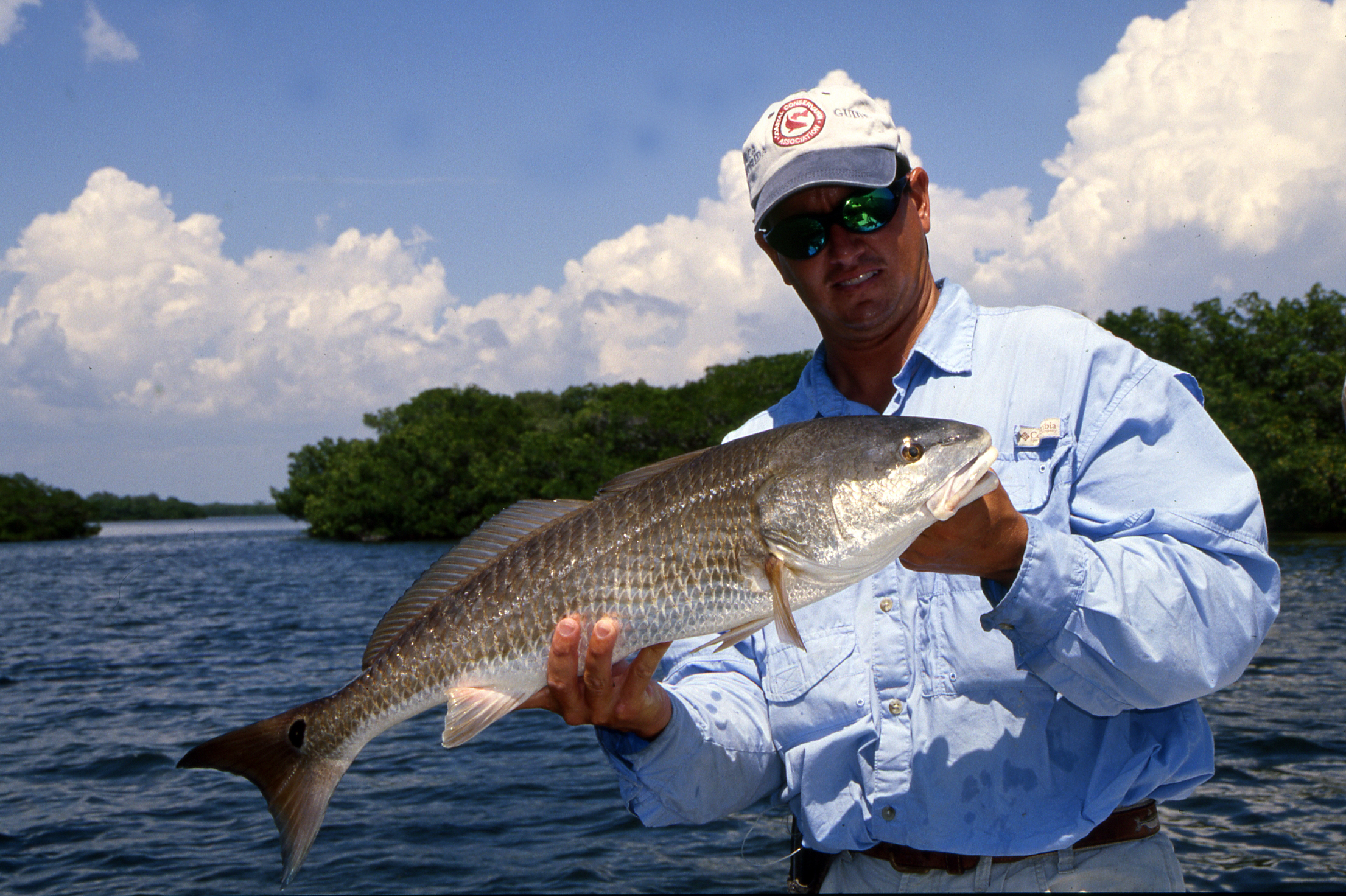 Live Baitfish
There are many ways to catch backcountry fish in southwest Florida, and Captain Danny often uses a combination of live baits and artificials—they all have a place in successfully fishing the shallows.
"The bait has to be fresh and lively," Captain Danny said. "I use a cast net to capture new white bait—which are threadfin herring and scaled sardines—every morning because it doesn't hold well when caged overnight. On a full-day trip I'm not happy without two or three hundred baits onboard in the livewell. I need that much to make big schools of moving reds stop and hold still. Using a lot of live chum is just my style of fishing—it's very effective, but I use a lot of lures too."
Water Temps and Tide
When targeting the Harbor Slam, Danny looks for water temps between 70 and 75 degrees. "Anytime the water temperature is in the low 70s the redfish and snook fishing really turns on," he said. "That's when lure-style fishing heats up. I like March and April best, but February is good, too, if it's mild. The only problem with late winter is if it's cold overnight the early mornings are cold, so the fish aren't active until 7:30 or 8:00 am. But I don't care about the time of day, I'm a tide person. The fish phase on and off the flats according to the tide, and a low incoming is the best and my absolute favorite."
Searching with Artificials
Although using live bait is extremely productive, it's usually not Danny's first choice. Once he finds an area that looks fishy or historically holds fish, he'll start working it with lures before he throws chum and casts baited hooks.
"I use a lot of plugs and other artificials as search-baits to find reds and snook," he said. "Then I settle them down with chum and can switch to live bait. I can't stop to chum at each place because I'll run out of baitfish, so lures are key."
Capt. Danny and other top anglers move onto a flat and throw across it with a plug, paddle tail, jerkbait or other lure. You can cover much more territory with a lure than with a live bait, which naturally just sits in one area. When Danny finds fish, he drops his anchor and gets the predators to chum up and feed more aggressively on the live bait.
"Topwater action in the late winter and spring is awesome," Danny said. "You're going to catch snook, reds, and trout, and you're going to catch them all day long. Any number of topwater and shallow-swimming lures work. I always have lures tied onto a couple of rods to throw into the sand holes in the flats. When you come across a sand hole, cast your topwater plugs across it a few times. If you don't get anything but it looks really fishy bounce a jig or paddle tail through it. I pick up a lot of trout and reds that way." A Game On! MagCast is a good jerkbait option here.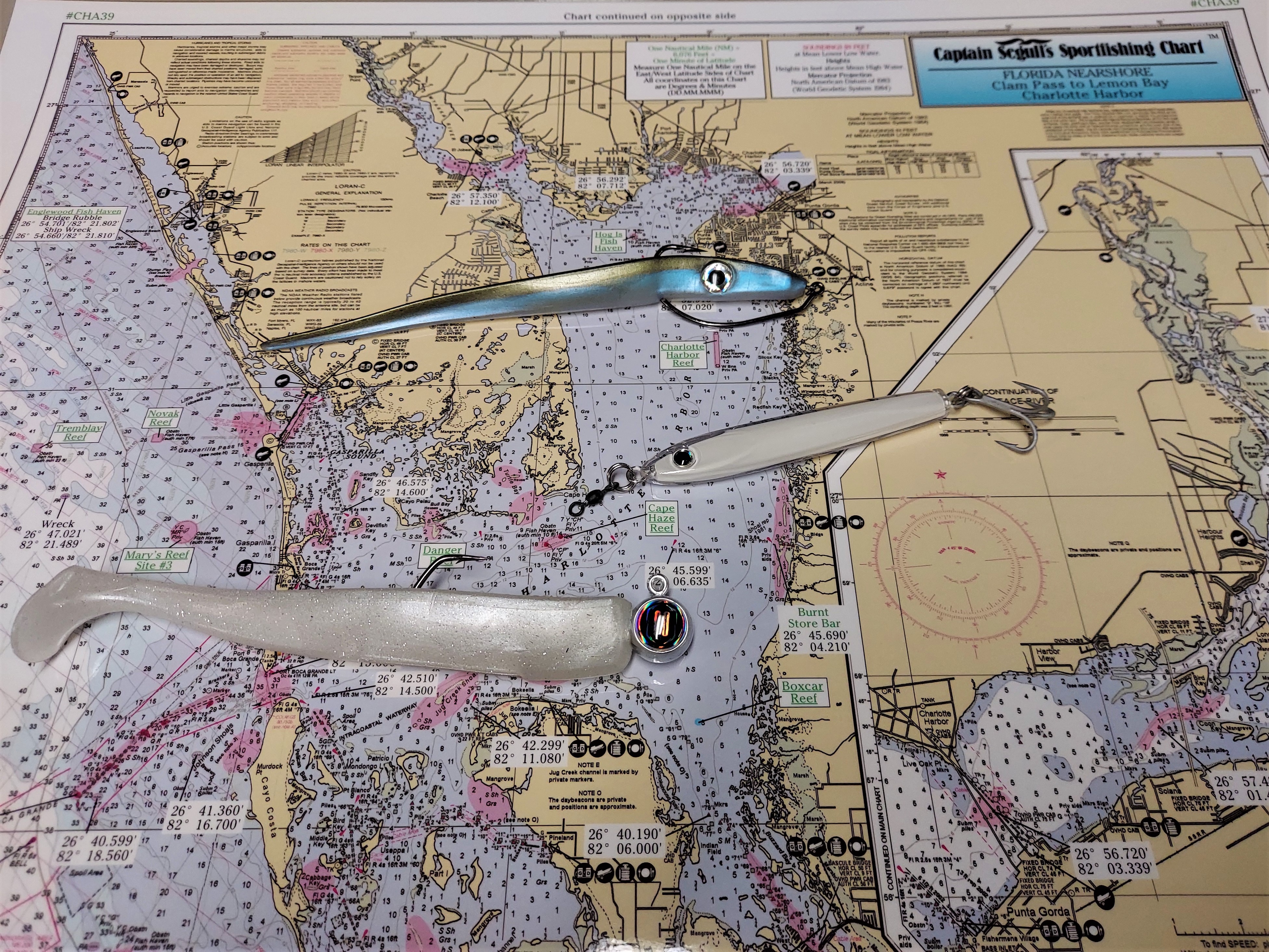 Fishing Paddle Tails
Paddle tails are designed to imitate baitfish. If you're trying to replicate a wounded whitebait or pinfish try to bounce the jig head off the bottom.
Make short twitches with your rod tip to get the paddle tail off the bottom, and then let it fall. Depending on how active redfish and snook are, you may need to increase or decrease your twitch speed and frequency. Predators often hit struggling baitfish as they fall. Be prepared for a take on the drop, and reel into the hook set until the line tightens firmly. This is a great method if you're fishing in shallows or backcountry with vegetation because it makes the paddle tail more noticeable.
You can also use a paddle tail by dragging it along a sand or gravel bottom. This technique doesn't always work, but it's effective if redfish are feeding along the bottom.
Of course, you can also fish paddle tails as a straight swimbait. If you choose this method, use a light jig head. The Game On! DuraTech paddle tail rigged with a ¼-ounce jig head and a 4/0 hook is a good choice here. You don't want a soft plastic to be weighed down too heavily when retrieved as a swimbait through the shallows. This technique works well when you need to cover a lot of water in search mode. Also, a 7-inch Big Occhi pairs well with a 5/0, ¼-ounce weighted swimbait hook in a similar application.
A last technique, which fewer anglers are aware of, is to fish the paddle tail as a topwater. If you see bait circles on shallow water or near the mangroves, the paddle tail is a great lure to throw. Use a light jig head and burn the paddle tail across the surface with your rod tip up. If the reds and snook are hungry and aggressive, they will crush a topwater paddle tail.
But if you're unaware of how the fish are feeding on a given day, slowly retrieve a small Game On! paddle tail or Big Occhi per typical fishing method. They're great search baits in almost every Florida shallows fishing situation.
Chart, Research, or Book a Trip
Like any other type of fishing, you need to invest your time in researching, exploring, and learning southwest Florida's backcountry waters like the large and esteemed Charlotte Harbor. Florida's advantage is that it's fishable year-round, and every season brings a change in water temperatures and target species.
To start your search of the Boca Grande area, buy this this laminated chart, which details the inshore of Charlotte Harbor south to North Captiva Island, and the Peace River north to Route 761. Captain Segull's charts (captainsegullcharts.com) include wrecks, reefs, shoals, rigs, fishing areas, amenities, and restrictions.: https://shop.captainsegullcharts.com/FLorida-Gulf-Coast/Small-Boat-and-Kayak-Charlotte-Harbor-and-Peace-River-FL.html. Or give Capt. Danny Latham a call to book a southwest Florida trip and start learning the waters: 941-628-6869. For more information about family fun in the region, visit www.swflorida.travel/ and www.purefl.com/.