Posted by Capt. Tom Migdalski on 5th Aug 2022
Soft-sided tackle boxes are a viable—and often preferable—option to typical hard-sided tackle boxes. Innovative, soft-sided models lead the tacklebox lineup by offering anglers versatility, reduced weight, easy storage, numerous organizational features, and they won't crack or dent when bounced onto the deck of a pounding boat. Their moldable bodies and padded straps provide carrying comfort for long walks down the beach, and they compress for easier storage in a boat locker or car trunk.
Whether fishing from the surf or from a boat, anglers look for plentiful storage space when selecting a tackle bag for marine use. Saltwater lures are typically large or long, like the 10-inch Game On! Big Occhi, and the assortment of Game On! lures an angler needs to carry may be diverse depending on the conditions and target species. Fishermen also require room for rigging accessories, pliers, sunscreen, outerwear, food, and bottled water.
Soft tackle bags replace hard-plastic construction with a rugged-but-light nylon fabric like you'd find in high-quality backpacks. That material also allows for shoving tackle bags into corners of a full vehicle trunk or boat locker without the need for space dedicated to a large, inflexible box.
Tackle storage needs can be divided into three primary factors: versatility, function, and durability. Some tackle storage systems look good but don't hold up well, especially in punishing saltwater conditions. Other tackle bags are tough but add weight or bulk, making them difficult to work and travel with. The perfect tackle storage solution gives anglers a bag that's easy to carry, holds all their gear, and allows them to easily customize each trip.
Making the right choice for a tackle bag can be daunting because of the numerous options on the market. Some fishing experts weigh in here to help you make the right decision on important features.
WATERPROOF AND ZIPPERS
"The number-one feature I require in a tackle bag," said Capt. Chris Elser, a pro with 30 years of experience fishing trophy striped bass and jumbo bluefish in western Long Island Sound (www.ct-fishing.com), "is for it to be extremely waterproof including the closures, which helps protect all my Game On! lures and loads of other necessary fishing gear."
Together with a waterproof material, experts like Elser prefer a heavy-duty zipper to protect their valuable bag contents and still function when stressed or exposed to the salt environment. "I like a high-tech, rugged zipper such as the one on my Simms bag," continued Elser. "That tops my list of important bag features."
Capt. Danny Latham, a southwest Florida guide for over 25 years (www.reelfishing.com) is also big on quality zippers. "For my saltwater needs," he said, "I carry a lot of gear in my boat bag and tend to overstuff the side pockets. That's where good zippers come into play. Not only does the zipper need to handle the weight, but it also must stay shut under strain and pressure."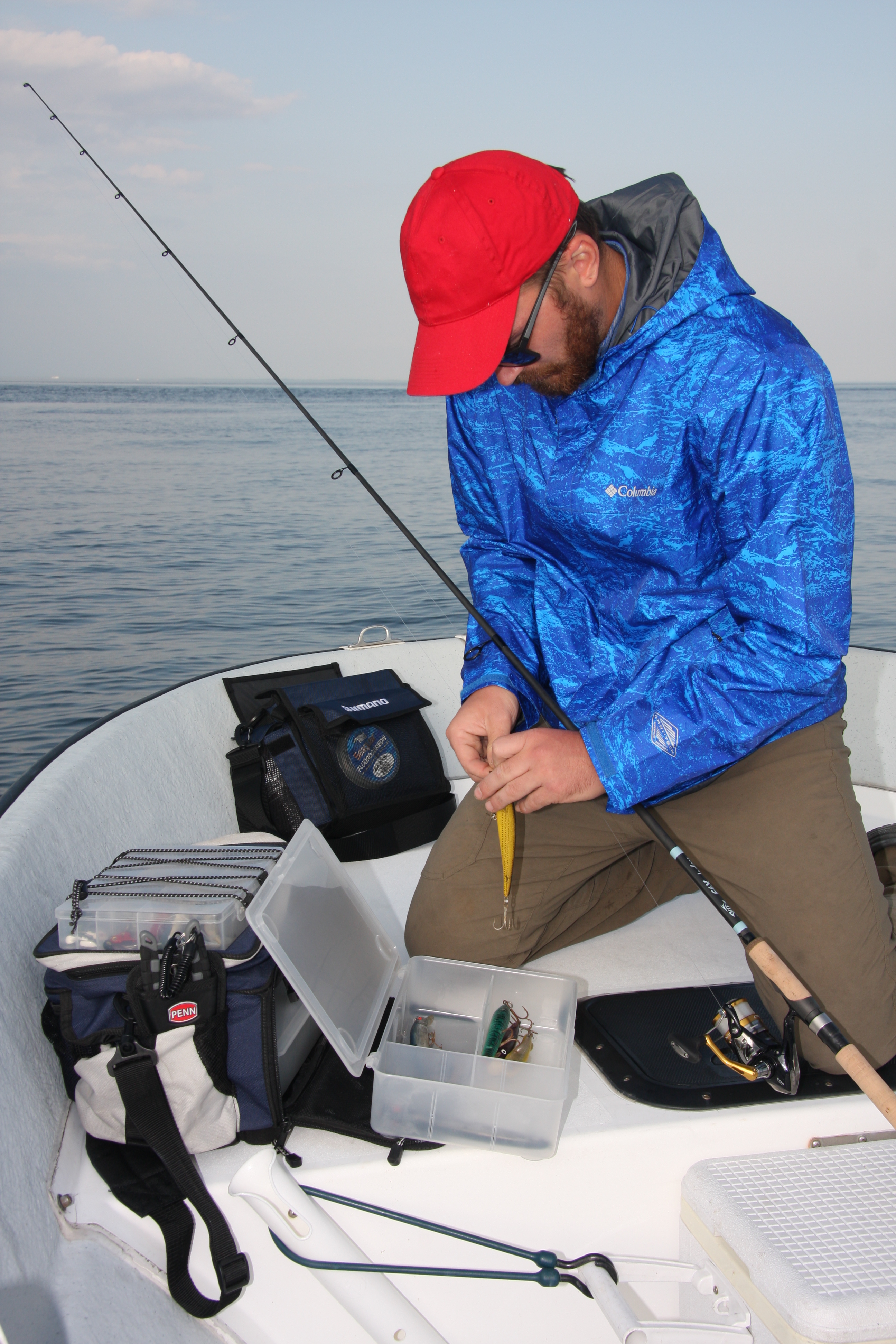 DURABILITY
"Tackle weighs a lot," added Latham, "by the time you fill your bag it can weigh over 20 lbs. That puts stress on the bag, and if it's made of cheap material it will quickly fall apart. A tackle bag must be made of high-quality material, feature strong handles, and provide a comfortable carry strap that's well attached to the bag."
Elser said that his other bag requirements include a durable setup that remains waterproof in any conditions. "Detachable boxes are nice in rain," he said, "so you don't have to open the main bag to access the lures you need. I also look for lots of attachments for tools via a docking station layout. The bag also must be lightweight, and a magnetic catch lid system is innovative and handy for quickly closing a bag."
Soft tackle bags are easier to carry than tackle boxes, and some convert to a backpack to keep your hands free to manage rods and other gear as you head for the boat or down the beach. The best bags incorporate a molded bottom for added strength, to stop water from seeping in, and to keep the bag stable and upright.
ORGANIZATION
Most tackle bag systems incorporate clear, plastic utility boxes, which are quickly and easily removable for access when rigging or packing. An advantage of this system is the angler can buy additional containers and fill them by tackle type, and then simply mix and match and switch them out rather than owning multiple hard-sided tackleboxes.
Some bags offer a divider feature as part of their main lure storage area. This allows anglers to adjust dividers to hang or hols their Game On! plugs and lures. These bags have a front area to store lures, and there's usually a side compartment to hold a small terminal-tackle box. Some bags also feature a durable rubber mesh bottom for fast drain and dry. These can be a good lure organizer design for either beach or boat use.
Besides storage, good soft tackle bags should contain multiple pockets with cover flaps to keep out water. These should be on at least three sides of the bag and designed for versatility. Capt. Elser added that detachable lure and fly boxes are great, and he likes being able to have an extra set of tools directly on the bag, so a docking station is a good feature when choosing a bag.
Some tackle bags offer built-in, heavy-duty magnets, which allow you to drop tools, hooks, and lures on the top of the bag and not worry about them falling off. They hold gear tight, and it stays put.
CARRYING STRAP
An obvious advantage of tackle bags over tackleboxes is their shoulder strap. A tackle bag's carrying strap distributes the weight of the bag across the shoulder, which is easier on the body and leaves a hand free to carry rods or grab a railing.
Important features of straps include being adjustable or the right length, heavy-duty nylon construction, sufficient width for weight distribution, padded shoulder point, and reinforced stitching at the attachment points.
"How handles are placed on a tackle bag is a huge item for me," said Capt. Latham. "Over the years, I've had several bags rip at the handle attachment points. The carry strap is sometimes overlooked but you'll appreciate a wide, comfortable strap when you're making a long walk to your boat or fishing spot on the shore. When you're well organized and have confidence in your gear you can turn your full attention to catching."