Posted by Capt. Tom Migdalski on 15th Oct 2021
Here's what you need to know to fish these great soft plastics in northern or southern waters.
Although paddle tails—two words which will eventually morph into "paddletails," just like "crankbait" and "jerkbait" did—aren't as widely used as other soft plastics like the Big Occhi, but they catch many fish, and they're worth learning about and fishing. They're designed to create lots of action—like soft curly tails do—and their vibration, motion, and flashy finish are difficult for sportfish to resist.
Experts recommend bright colors like white, silver sparkle, or bright green for stained, cloudy, or muddy water, while clear-water choices include white, green, or blue. For night fishing, the rule-of-thumb is dark purple, which provides a silhouette in low ambient light. Their one major drawback, however, has been the waste and environmental impact they may create when they're so easily destroyed (bitten in half) by toothy critters like bluefish.
Game On! Lures has created a new paddle tail called the DuraTech®, which solves that problem. According to Dan Orefice, founder and CEO of Game On! Lures, the DuraTech® paddle tail, as well as their future DuraTech® products, are safer for the environment because they are made from a non-PVC elastomer, just like materials used for making medical devices and other medical applications.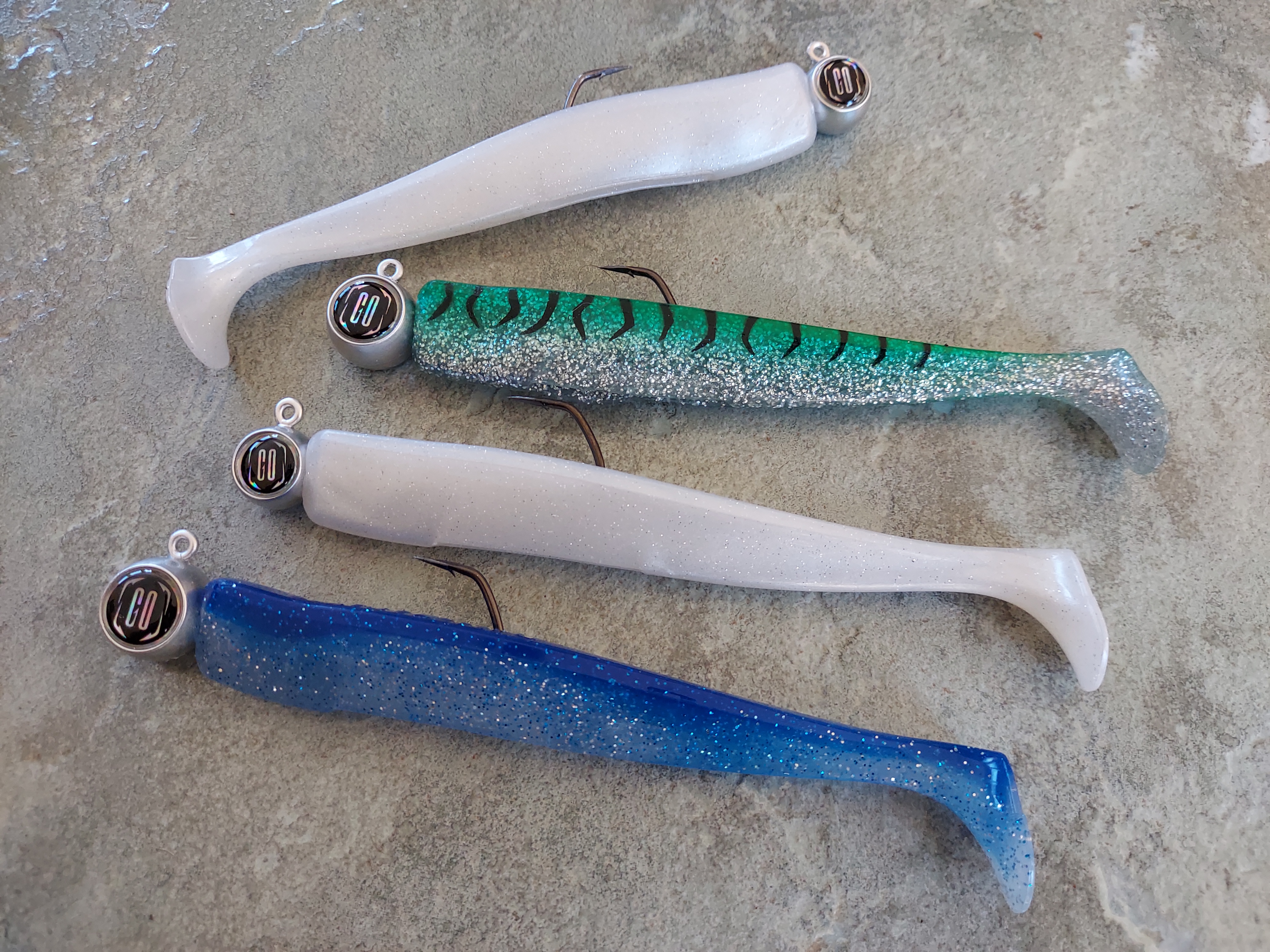 "The DuraTech® material," says Orefice, "is soft and flexible, which gives the lure great action, but the special elastomer provides extra durability and is more resistant to damage from aggressive fish and predators with formidable dentistry like bluefish and bonito.
"Anglers can fish the DuraTech® paddle tail with a jig head or a weighted worm style hook, and the natural buoyancy of the DuraTech® material will keep the bait suspended off the bottom. These 6-inch paddle tails are specifically designed and intended for striped bass and bluefish, but we have plans soon to add additional sizes, which will make these products suitable and attractive to a wider variety of species, including many in southern waters."
In general, exact shapes of paddle tails are as varied as the weights of jig heads. For midwater use, experts recommend picking a streamlined paddle tail with a large hook that remains exposed after rigging the soft plastic, such is the case with the DuraTech® models. For bottom bouncing in shallow waters, opt for increased jig head weight. Heavier jig heads also increase casting distance, especially on windy days.
Jig heads are currently available for DuraTech® paddle tails in 1/4- through 3/4-ounce sizes, and you need to specify which size you want when ordering.
Capt. Chris Elser, a pro charter captain out of southwest Connecticut with over 40 years of experience (ct-fishing.com), says that he's been in discussion with Dan Orefice about creating a smaller 5-inch paddle tail with this new floating and durable material that they plan to try as a prototype for false albacore and bonito.
"I see a viable use for these on false albacore," says Elser. "As I have experienced recently locally, albies really want something in the surface film when they get finicky, and I was able to achieve that with flies and Albie Snax, but the 7-inch Occhi is too light to cast accurately and with distance minus a jig head. An appropriate DuraTech® paddle-tail jig head will provide a solution.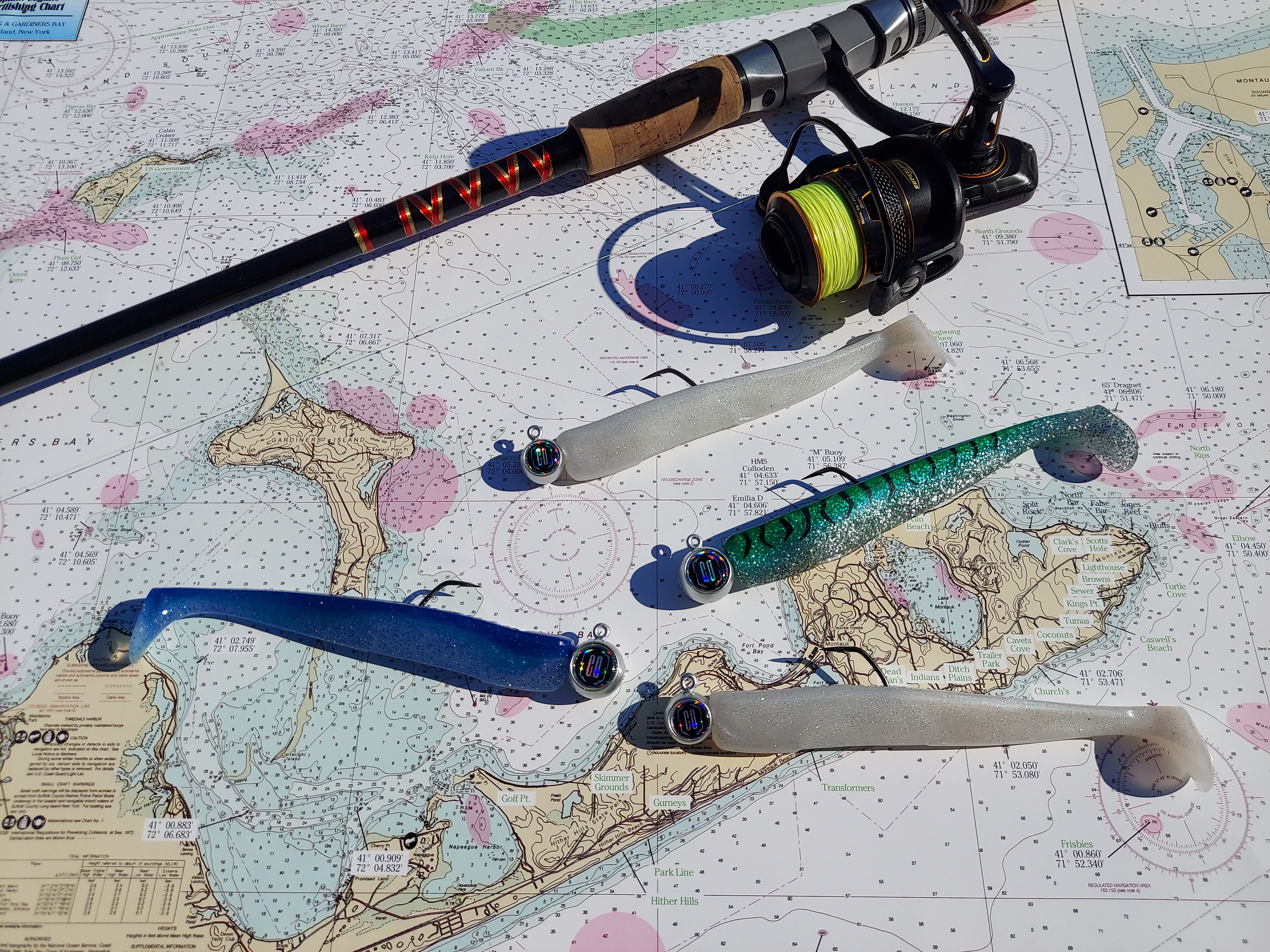 "My technique for fishing a Game On! DuraTech® paddle tail near the surface is to use a fairly long, 16- to 20-pound-test leader. And most importantly, that the leader is tied to the jig head using a non-slip loop knot, which allows freedom of swimming movement and less rigidity once hooked up. The paddle tail provides all the action necessary, so a steady, slow-to-moderate retrieve works best to cause a gurgling sound on the surface.
"It's important to not fish paddle tails with a pulsing/jigging/twitching motion like you would a Big Occhi soft plastic, which has no natural movement of its own. They're two different lures designed for two different purposes and techniques. When retrieving a paddle tail, always keep the rod tip pointed straight at the lure. That enables a better hookset ratio than if the rod tip was held high or too low.
"Fishing a weighted Game On! DuraTech® paddle tail requires more weight than a standard Occhi style soft plastic because it's buoyant, so if an angler is targeting depths of 10 feet or more I recommend a minimum a ¾-ounce jig head and the wider gap on the new Game On! Unleaded WideEye Jig Head, which will aid in better hook sets."
Capt. Elser has fished this new, highly-durable paddle tail with great success for bluefish up to 12 pounds, and he states that he's caught multiple bluefish on one plastic before having a chunk bitten off, which makes them a long-lasting and great lure when bass and blues are staging and feeding together, and they're also better for the environment.
Elser's choice for a setup to effectively fish paddle tails is a 7-foot, fast-action spinning rod fitted with a 3000- or 4000-size reel spooled with 20-pound braided line. He recommends a 3- to 4-foot section of 20-pound mono or Fluorocarbon leader. His knot of choice with any soft plastic is non-slip loop knot, which allows freedom of movement for increased visual motion as well as water vibration.
Paddle tails, in general, are ideally suited for targeting inshore species like striped bass, bluefish, and occasionally false albacore and bonito when the forage base matches up like peanut bunker. In southern waters, paddle tails are used effectively for species like redfish, snook, and even tarpon.
"Overall," says Elser, "I find the action deadly for striped bass when they're feeding on peanut bunker nearshore. Late fall provides incredible action with stripers and bluefish up to several miles offshore feeding on butterfish, Atlantic herring, and peanut bunker.
"Most saltwater-grade paddle tail lures on the market range from 3 to 8 inches, and since there's such a wide range of sizes it's easier to 'match the hatch' in size and color. For New England waters, I prefer plastics of all kinds with at least a white belly, but you can't go wrong with all white for any plastic."
For anglers fishing southern waters for snook and redfish, the same tactics apply when casting paddle tails into shallow water in marshes, tidal outflows, and bays where baitfish like threadfin herring and scaled sardines gather during tidal flows.
And then get ready for a hit and hang on!