Posted by Capt. Tom Migdalski on 23rd Sep 2022
Catching large predators on spinning gear isn't the novel news that it was only a dozen years ago. Back in 2005, some anglers starting in the "tuna-pop" sport were using extra-heavy musky or striped bass rods rigged with big surf reels to cast topwaters at breaking fish. These outfits were cumbersome and tiring, especially when heaving and working heavy mono line.
According to Randy Chin, CEO of Temple Reef rods (https://templereef.com/), who is one of the pioneers in the heavy-spin-rod industry, the evolution of heavy popping rods actually started in the late 1980s when Japanese anglers targeted giant trevally with long rods and big lures. These early plugging rods were up to 10 feet long and made of fiberglass/graphite composites. When superbraid lines were refined and popularized, casting rods became shorter and stronger because anglers could still achieve the same distance by using braid. Shorter length is imperative for designing stronger and more efficient casting rods.
When tuna casting began in earnest in the Northeast, Chin said that captains were skeptical of spinning rods and "coffee grinders" (jumbo spinning reels) until 2006 when they witnessed Chin and others subduing 50-pound bluefins in only 5 minutes with that gear. But as the individual size of this tuna year-class grew, so did the need for a rod specifically designed for targeting bluefin and yellowfin over 50 pounds because giant-trevally rods weren't efficient. That's when Chin developed his first purpose-made tuna casting rod, which could handle 50- to 80-pound braid and cast and work up to 4½-ounce lures.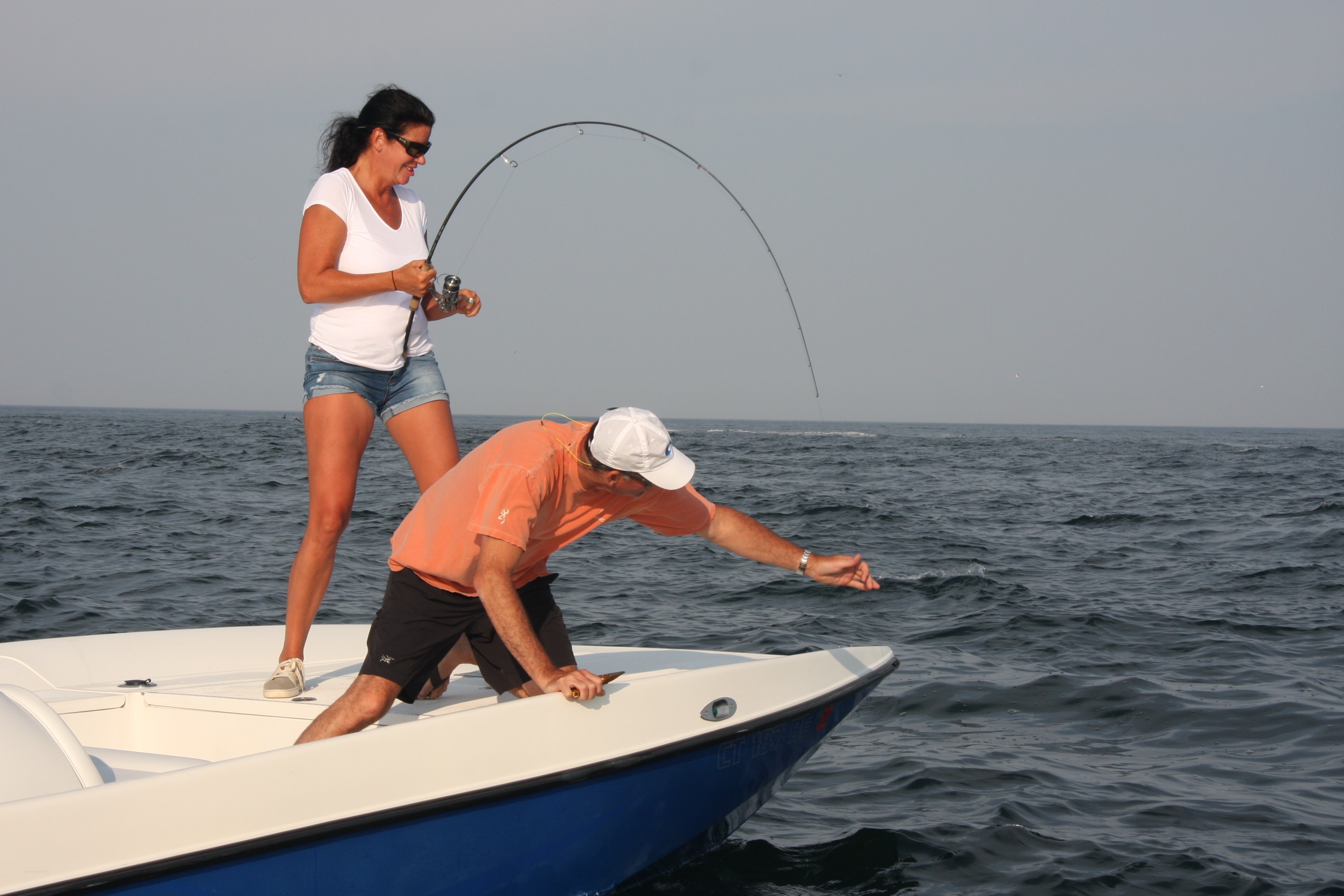 Strength and Weight
Today, anglers routinely target large predators like giant stripers, trevally, jacks, grouper, tarpon, and large school tuna on tackle once thought only suitable for less powerful species. The rods, in conjunction with ever-evolving, super-duty spinning reels, must not only handle 50- to 100-pound-plus fish, they also must sling up to 4- to 5-ounce jigs, poppers, and stickbaits using heavy braid yet be manageable for anglers to use over many hours. These tackle types are a perfect application for casting the new 6-inch Game On! X-Walk Topwater Lure to beasts such as tuna, tarpon, and cow striped bass.
A rod's weight-to-strength ratio is the most significant recent advancement in blank material, according to Blaine Anderson at Shimano. He feels that's because it's now possible to cast all day without tiring. "A lure in the water," he noted, "is better than a lure in the cockpit during frequent rest periods."
Rod Guides
"Improvements in guides is another significant change in the rod-building industry," said Michael Bragg at Penn. Innovations in guide design, quality, and trains (placement) provide anglers the ability to cast farther and more accurately, and it has eliminated braid erosion or "grooving" during intense battles. Braid-ready, one-piece guides eliminate insert pop-outs and provide long-lasting durability for anglers' specific set-ups. The introduction of popular Fuji KW guides is a need-specific example.
"For a heavy casting rod," said Chin, "the best blank material is 100 percent carbon fiber. Our preferred guide is Fuji's MN guides with SiC rings. Our preference for MN is mainly because they're smaller. Guides are bound to rods with thread and epoxy, and we want this distance to be as short as possible so as to not affect the blank; in other words, inducing flat spots with far-edging guides. I believe SiC rings are necessary for heavy braid because ceramic has the best heat conductivity and better compression strength to keep the frame rigid."
Materials
"Advancements in construction materials are also key improvements. Low to mid modulus materials are now available with higher tensile strengths, which increases the strain rate of the fibers," according to Jason Brunner at St. Croix. "Better glass materials are used in conjunction with carbon fiber, and they are the perfect combination of strength, power, and action."
Daniel Ramos from Okuma said that today's materials help in designing rods with technique-specific tapers and powers needed for targeting big gamefish. The use of stronger and lighter blanks and composites, along with ultra-durable components such as reel seats, guide frames and inserts and butt sections are designed to withstand high-test braided lines.
Chin's opinion is that the enhancement to the variety of prepreg (a composite consisting of fibers impregnated with epoxy resin) available, such as material thickness variations, allows for finer tuning of rod action and strength, including the introduction of nano adhesives to prepreg. With this technology, it's now almost an industry standard to keep the weight of rods to 14 ounces or less. Experts agree it's an important aspect in popping-rod design.
"Few popping/plugging rods are fitted with gimbal ends, and instead feature a rubber knob butt because a specific type of harness/rod belt has become popular," noted Chin. "Modern reel design also changed the size of reel seats, making them smaller, which is another improvement. These features create lighter and more efficient popping rods than we had just 12 years ago."
Length and Construction
There's no one single best all-purpose plugging rod, so how do you know what to look for? Anderson at Shimano pointed out that heavy-duty casting rods should range from 7' to 8'3" and have reinforcing construction methods, with available power ratings ranging from medium to extra heavy.
According to Chin, rod weight saturates the castability of a popping rod. He feels the ideal tuna-pop rod should weigh 13½ to 14 ounces with a length 8'0" to 8'3". Any shorter, he believes, will affect optimum casting distance, but any longer will exceed optimum rod weight. A moderate action is necessary for casting a wide range of lure weights and is ideal when fighting tuna because 80 percent of the battle is vertical. A moderate action places more pressure on the fish and less pressure on the standing angler due to the parabolic curve.
Grips
For rod grips, added Chin, Temple Reef and most other manufacturers use EVA grips because they're lightweight and fuss free. (EVA is an elastomericpolymer, which is "rubber-like" in softness and flexibility, has low-temperature toughness, stress-crack resistance, is waterproof and resistant to UV radiation.)
One last important aspect of rod construction at Temple Reef is the length/position of its foregrip. Naturally, all anglers want to grip their big game rods as far up as possible to get the best leverage, which is always at the end of the foregrip. But because of the finesse of these popping rods, too high of a hand placement results in "high-sticking," often resulting in a broken rod. Foregrips, according to Chin, should terminate at the designed fulcrum for maximum effectiveness without compromising the integrity of the rod.
"It's like a plastic straw," concluded pro Captain Kyle Douton from Niantic, Connecticut, "if you bend it too far it suddenly creases. That's how a rod snaps. The trick is to build a rod that will take extreme pressure and not break at a weak point. That's what new technology is doing for us."