Posted by Capt. Tom Migdalski on 15th Dec 2021
Fishing shoes and boots offer traction, protection, support, and comfort for long days on deck or shore. Here's what you need to know before buying them this holiday season.
At this time of year, hundreds of items are on sale. Fishing shoes and boots are no exception. Many deck and shore shoes are either on pre-holiday sale or will be on post-holiday sale soon. Part of the problem, however, is inventory disappears quickly, and footwear items are often put on sale after the most popular sizes are sold out. This means you must search to find the type, style, and size you need. But how do you know exactly what to shop for? It starts from the bottom up.
It's all about the Grip
Siping, whether applied to tires or boat shoes, means to cut or mold thin slices through rubber to improve traction on smooth, wet surfaces. Rugged, lugged soles are disadvantageous—and even dangerous—on a wet, pitching deck when casting your Game On lures or fighting a big fish. The reason is because manufacturers must exclude large amounts of stiff rubber to create lugs on hiking-style shoes, and the aggressive pattern means there's less rubber to contact the smooth deck. Siping removes a minimum amount of a sole's surface while creating suction-like grip from toe to heel and works best in conjunction with pliable rubber.
"When it comes to choosing a boat shoe," says Vince Battista, a fishing expert from the Boston area with over 20 years' experience, "the biggest factors are functionality and comfort. I see many anglers using their duck-hunting boots for fishing, but that's dangerous because the high heel of duck boots is designed to pull up out of the mud. For fishing on boats, you need a broad, flexible, gripping sole that won't lose traction when the deck is wet.
"The overall height of a shore boot will vary depending on season and conditions; for example, anglers casting lures from the rocks need a tall, wellie-style boot to keep from getting swamped, and with a heel and grip pattern designed to provide traction when crag hopping on a point or tombolo.
More on Boots
"I like XtraTuf's 6-inch deckboots for summer fishing," says Battista. "They're slip-on, waterproof, but also reasonably breathable; this means your feet don't get too hot when you're under the sun all day, and because they're smooth, flycasters don't worry about stripped line getting tangled in the laces. They're low enough for comfort but high enough to prevent you from getting snagged on a treble hook when you haul a feisty fish aboard.
"For chilly weather, I'd recommend XtraTuf's Legacy boots in either the 12-or 15-inch height. They offer an insulated option for cold days. XtraTuf has a reputation built on a well-made product, and commercial salmon anglers swear by them. The GlacierTek Pro model is perfect for fishing from deck, shore and in sketchy conditions. When early- or late-season casting from the rocks, many anglers opt for the Muck Boots Wetland high-top boot. It's tall enough to keep the water out, warm enough to keep your feet happy when you're on the tombolo at first light, has a rugged sole for grip, and the neoprene upper is soft on your calves."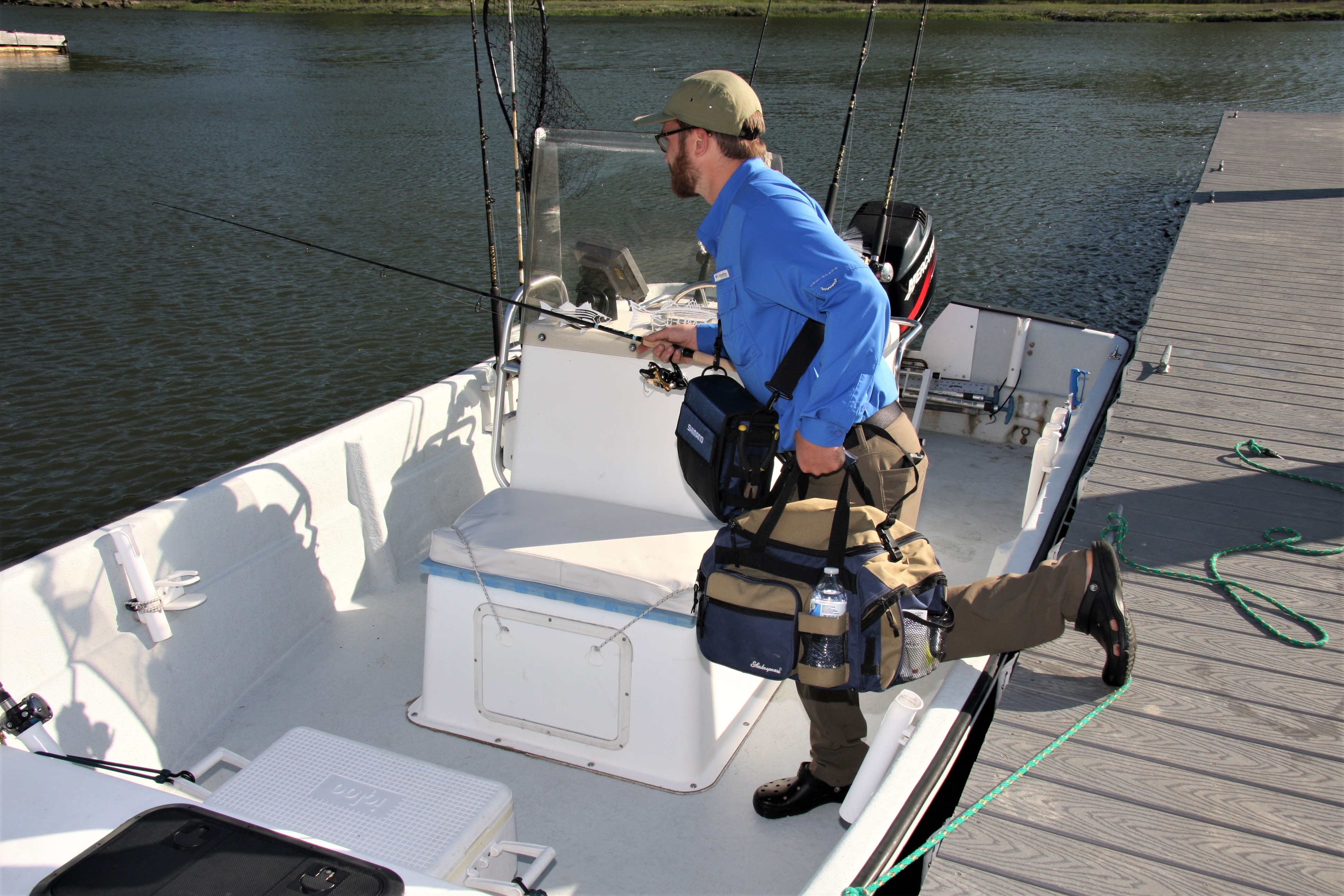 Shoe Factors
Captain Chris Elser, a pro with many years' experience fishing Game On lures in western Long Island Sound (ct-fishing.com), says that his number-one complaint about customers is them wearing shoes that mark a white, non-skid deck, which is extremely difficult to remove.
"Important features of a boat shoe," Elser says, "are superior traction on wet and dry surfaces. The soles must also be non-marking, flexible, and provide good cushioning."
From the mid-1930s to present, manufacturers have constructed boat shoes of canvas or oiled-leather uppers with non-marking—traditionally white—siped soles. But leather and canvas don't perform as well as modern materials in a constantly wet environment. Today's shoes are light, quick-dry, quick-drain, cushioned, breathable, odor resistant, comfortable, and sometimes 100 percent waterproof.
"Footwear purpose-built for a saltwater environment," says Bo Thai, product marketing manager at XtraTuf, "can dramatically improve a fisherman's performance and safety. Anglers should understand their fishing environment, and then select the right footgear for it. Factors include water and air temperature, socks or sockless, type of fishing, and level of protection required. Closed-toe marine footwear offers anglers numerous advantages over flip-flops or sneakers built for land use. Performance-based benefits include increased agility and support during athletic movements, better traction, and overall comfort for long days on your feet."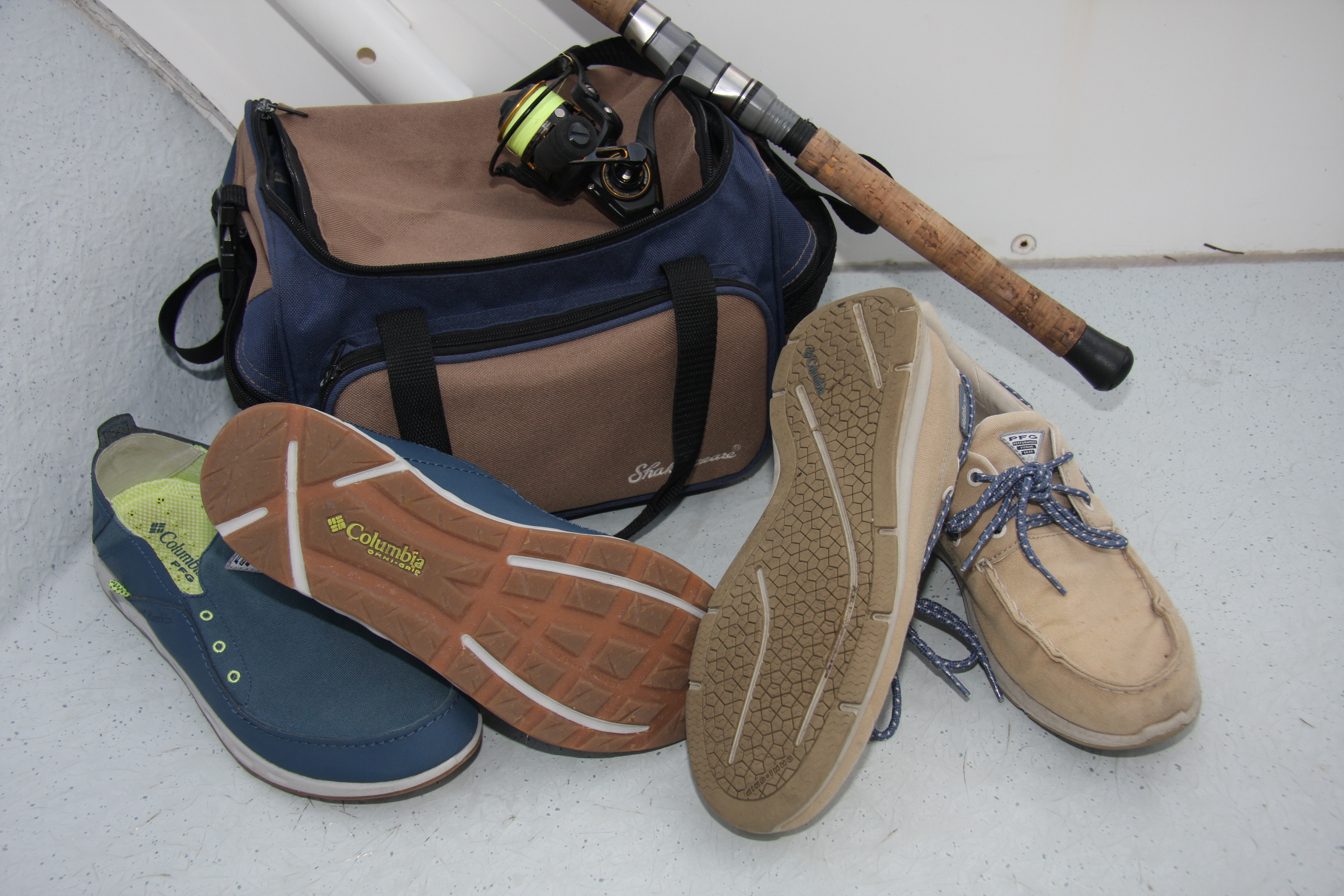 Cross-Overs
"Cross-overs" are hybrid products satisfying more than one purpose or need. Grundéns, famous for extreme-duty outerwear and commercial fishing boots, offers a hybrid between a boat shoe and a deck boot called the Deck-Boss Slip On. Like their ankle boot in construction, the Slip On was designed for angler comfort. Using a thermoregulated, anti-microbial cooling liner, these waterproof shoes slide on easily, and keep your feet cool, dry, and comfortable. The Slip On's sole is non-marking, siped gum rubber for flexibility and traction.
"Next after traction and non-marking sole," says Elser, "comes comfort. Some boat shoes run narrow, so make sure the fit is ideal for you, especially if you have wide feet. Following that are stability and support. Additional points are breathability, flexibility, water drainage, and anti-microbial treatment. I prefer a laced, athletic-style shoe to ensure a snug fit. But slip-ons are convenient, and you never need to worry about tripping on an untied lace on deck. For casting lures and fighting fish in rough conditions I recommend sticking with laced shoes."
XtraTuf offers a laced boat shoe called the Topwater. Designed for light- or heavy-duty deck use, it features a rubberized TUF fabric upper, which provides durability in high wear areas, yet it's breathable for all-day comfort. The Topwater's sole is SRC-rated (SRC-rated footwear has the highest safety/slip-resistance rating achievable in a class of shoe or boot) for optimum grip.
Why Not Running Shoes?
Why not just wear a pair of running shoes on deck? For starts, the tread on most running shoes is too aggressive, which means there's less material contacting the deck and therefore less grip on slick surfaces. But most running shoe soles are also designed differently.
"Just like any other purpose-built shoe," says Elliott Taylor, a lifelong saltwater angler and director of grad-school recreational sports in Yale University's Athletic Department, "boat shoes have a different offset from running shoes. 'Offset,' or heel-toe drop, is the difference between the thickness of material under your heel and the thickness of material under your forefoot, which is key to providing long-term comfort.
"Running shoes are extremely comfortable, but their heel offset is higher than in boat shoes. One reason is to lean the foot and body forward and roll off the toes to help propel the runner. Standing on deck all day in running shoes could eventually lead to lower back stiffness, foot fatigue, and sore legs. Boat shoes use a lower offset, often with no heel, providing a more natural, barefoot-like balance and stance, which improves weight distribution, posture, comfort, and stability on deck."
With today's boat shoes, although your feet may get wet, they don't have to stay wet. At day's end you can walk from deck to dock to dinner in style and comfort. And now is the time to look for that great holiday deal.