Posted by GAME ON on 10th Jun 2020
Story and Photos by Capt. Tom Migdalski
The remarkable waterway of the Connecticut River runs 410 miles south from its origin in Canada, bisects Connecticut, and dumps 10 billion gallons of freshwater into Long Island Sound daily, which is 70% of the Sound's freshwater source, making it a world-class fish migratory passage and fishing estuary. The lowest or most southerly portion of the river ranges from salt to brackish water, and separates the coastal towns of Old Saybrook on its western bank from Old Lyme on its eastern bank.
The I-95 Bridge (Baldwin Bridge) divides the Inland Zone from the Marine Zone. That means if you drop your hook north of the interstate, despite its tidal fluctuations and salt content, you must possess a Connecticut inland ("freshwater") fishing license. The bridge is located 2.9 nautical miles north of Lynde Point at the river's mouth. You'll find the main entrance to the river between two breakwalls and note the landmark Saybrook Inner Lighthouse on Lynde Point on the west bank.
There are several boat launches available to access the lower river, and they include: Four Mile River ramp, South Lyme; Great Island ramp, Old Lyme; and Baldwin Bridge, 220 Ferry Road, Old Saybrook (under I-95). For more details go to: https://portal.ct.gov/DEEP/Boating/Boat-Launches/Boat-Launches-in-Connecticut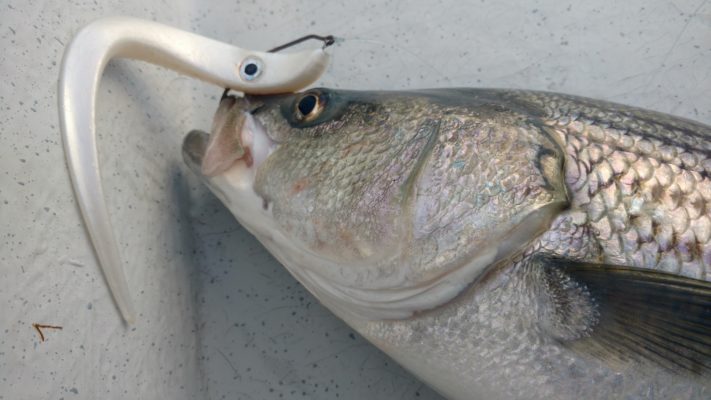 South of the Bridge
Motoring downriver and south of the I-95 Bridge boat ramp, you can find an excellent late spring fishery starting at the northern confluence of the Back River and Connecticut River, in an area that local experts call the Wood Lot. Here you can idle your boat into a transition zone where the depth quickly changes from 4 to 10 feet. But you need to do this quietly to prevent spooking the fish, especially on calm days.
Using a medium-light spinning outfit, cast towards the shelf, and retrieve your soft plastic or plug across the drop-off. The Game On! Big Occhi excels here with an enticing, slow-twitch presentation that stripers can't resist. Drift with the current and continue fan casting until you locate a pod of bass. The fish are usually in the shallows, but you should also explore the deep side, which can hold schoolie bass as well.
If nothing is staging here or when the bite wanes, you can motor southward to Gibraltar Rocks, which are three large, clearly defined boulder fields. This is a great spot to anchor, but keep an eye on your chartplotter and be cautious of subsurface rocks. Cast up or across current and retrieve just fast enough to keep your lure from hanging bottom, which is a perfect application for a large soft plastic like the Big Occhi. Bass await prey here in the slower and deeper water.
Farther seaward and just east of Buoy #10 are Sodom Rocks, which is a perennial hotspot. Continuing south from there, you'll find another cluster of rocks and small marsh island to cast to is just east of Buoy #8. Griswold Piers, just south of Buoy #8, is a fishy area denoted by three small rips. Finally, at the river mouth, you can cast to sandbars and the breakwaters, which provide good action on an ebb tide.
On a flood tide, work back upriver towards the Wood Lot. Begin by fishing the Great Island shore just north of Poverty Point, this time in the shallow 3-foot water close to land.
A trolling motor or push-pole is optional but sometimes important equipment for casting the shallows because the stripers in this skinny water are easily spooked. In fact, you'll see bass wakes scatter if you approach too forcefully. Cut your motor when you're a couple of casts away, and work your way in quietly. Once you're a cast's distance from shore you can start targeting spots like Great Island.
From Great Island, work your way past the rocks that mark the entrances to the Back River and to the Lieutenant River. If you're new to fishing this area, be very cautious of rock piles in the lower river, many of which are the remains from the days of commercial haul seining. While they make attractive structure to fish, these boulders are usually subsurface and can badly damage a motor.
One of the biggest mistakes beginners make is spotting a cluster of boats on the southeast shallows and zooming over to get in on the action. A gathering of craft always puts the fish down and temporarily off the bite. You'll also be viewed as an intruder by the other anglers. There's lots of water in this big river, so be anti-social—the quintessential example of "social distancing"—and locate your own fish. You'll catch more bass and feel greater enjoyment in the process.
On the west side of the river, you'll find Ragged Rock Creek and a rocky bar. These areas are hit-or-miss but can be productive from late April into early summer. Some spots are shallow, but the area is lightly fished compared to others. Slightly downriver is a bridge and North Cove, which offers more structure than the Old Lyme side. Study all these spots by chart before you head out.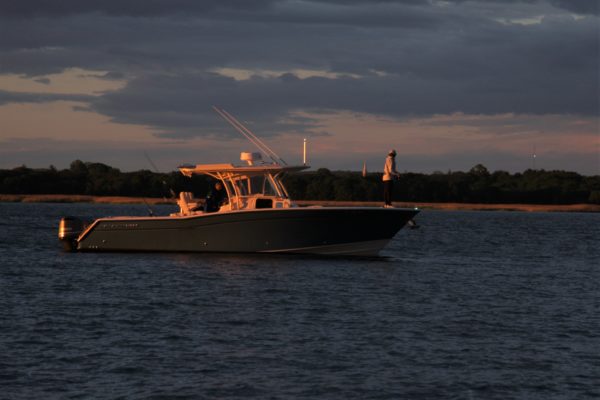 Fishing from Shore
Ferry Landing State Park is located at the DEEP Headquarters in Old Lyme, it offers access along a fenced boardwalk/bulkhead area just north of the railroad bridge. A 1,000-foot-long fishing pier is also featured here, which runs southward under the train bridge and along the shoreline. On any given afternoon you'll find bait anglers lining the rail hoping for bass or bluefish. Casters can also exit the end of the pier and cautiously wade the shallows while tossing lures toward the channel for stripers, bluefish and maybe even a weakfish or fluke. This is where a Game On! MagCast 5.5 lure is ideal to reach the channel edge for an aggressive predator.
Whether exploring the lower Connecticut River by foot or boat, the beauty and diversity of this huge estuary is hard to match anywhere in the Northeast. Bluefish, striped bass and baitfish are abundant, and you can usually fish in the river when conditions outside on the Sound are prohibitive.