Posted by GAME ON on 15th Jun 2020
Story and Photos by Capt. Tom Migdalski
I felt like I was battling a bluefish three times its size. My rod was bent double and my spool spun like a tire on ice as the roaring current aided the small bluefish's powerful bursts. With the suction pulling my skiff into the turbulent flow, the 10-knot conveyor-belt of warm water carried me away from the other boats to finish the battle unscathed from crossed fishing lines.
My hotspot—which is no local secret—was a man-made rip gushing from the Millstone Nuclear Power Plant located on a peninsula in Waterford, Connecticut, about three miles southwest of New London. The plant is the only one of its kind on Long Island Sound and occupies 500 acres. It draws its name from the site's original and historic quarry, which produced high-quality millstones and building granite. The reactor's cooling system creates two discharges that spew rivers of fast, clean, warm water into the Sound.
Late each spring, small bluefish—also called harbors or tailors—hold in the plant's warm-water discharges on its east side. These fish are hungry and lean from their recent migration north. Millstone is one of the few nearshore locations where your chances of hooking a skillet-size blue are as high as when making a run to any other rip in the region. Here a small-boat owner can comfortably fish within casting distance of shore, be protected from a howling 25-knot northwesterly, and be within about a mile run of two boat launches.
The reason fishing at Millstone is productive is because its outflows draw and concentrate schools of baitfish like silversides, squid, anchovies, butterfish and peanut bunker, harboring them in the warm water all season. The bountiful bait, in turn, attracts predators. The action starts as early as late-April, sometimes with small schoolie stripers, and soon expands to small-to-medium bluefish in June and through the summer.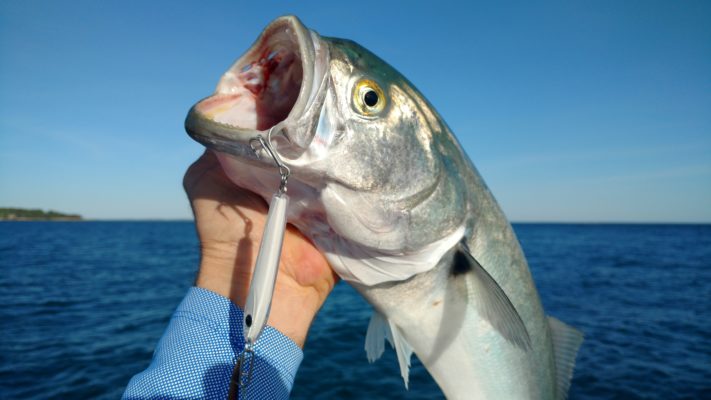 "Anytime I'm hunting for small bluefish," said Capt. Dixon Merkt (retired), "I always swing past the plant and have a look. If the boat traffic is light and I see signs of birds or fish we'll stop to cast for a while. But sometimes the fish are holding deep in the current, and you won't see any signs on top, so you just have to explore and try your luck."
During the years immediately following 9/11, homeland security regulations prohibited fishing near the plant—from shore or boat. Since then, the restrictions have loosened, and boat anglers are again permitted access to these prized waters, but only on the eastern outflow side. Shore-based access and fishing is permanently prohibited.
You can fish the discharges most easily and effectively with spinning tackle, but fly casters have luck here, too. The most common strategy for plying the rips is to jockey within reach of one of the outflows—often only a boat's length away from the stone riprap—and idle or cut your motor. Immediately begin casting across the flow, letting your lure swing downstream while using a very slow retrieve—or sometimes none in the strongest current. Your goal is to imitate a baitfish struggling against the current, so the normal fast cranking used for bluefish appears unrealistic and is unnecessary. The most ideal lure for here is a small but heavy casting jig, especially the 1-ounce Game On! EXO Jig, which rockets through a coastal breeze for long casts but sinks and swims well in the extraordinary current. These bluefish don't seem to have a color preference, so I just stick with white or silver pattern EXO Jigs.
Methodically work the entire length of each discharge until you find predators. Fish will feed anywhere from the whitewater emanating from the steel bulkheads to the far end of the slowest tailwaters 100 yards or more from the shore.
Small boats and kayaks should avoid anchoring or motoring directly in the discharge waters because the current is strong enough to swamp a small craft. The waves make up especially big when a brisk east wind opposes the outflow. Also, proper fishing etiquette dictates you don't anchor in the middle of the prime fishing spots. That's a quick way to make enemies. But skillful anglers will sometimes anchor adjacent to the outflows or in the tailwaters, but only attempt this if you're comfortable with your seamanship skills and the area isn't too crowded.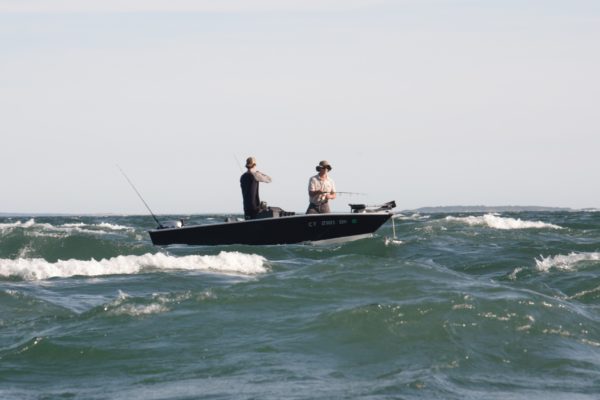 Tackle doesn't need to be fancy for Millstone, but it does need to be of high enough quality to handle fish in the strong outflow current. I like a 7-foot medium-fast action rod with a matching 3000-series spinning reel. I load my reels with 12- to 16-pound braid. To that you'll need to connect about 12 to 18 inches of either light, vinyl-coated wire leader or 40- to 60-pound mono. When the bluefish are schooled up in the rip, the action can be intense, and free-swimming buddy fish swipe at the hooked bluefish's lure, often resulting in a parted line and lost tackle without sufficient leader material.
If you intend to keep a couple small blues for the grill, remember the new limit is only 3 per person, and ice them immediately on the boat because their flesh is already up to 10 degrees warmer from the discharge water temps.
Despite local jokes, "nuclear" fish don't glow in the dark (nor are they contaminated), but you'll have a glowing smile after wrestling predators in these rivers of whitewater.
Fish Smart: Power Plant Precautions
You must use common sense when fishing and photographing from a boat near nuclear facilities. For example, security is much tighter on the inflow side than on the outflow side of the plant. The obvious reason is because terrorist-types might try to float something into the cool-water intake. Off-limits secure zones are clearly marked with buoys (exclusion area non-lateral markers). Linger inside this area, especially with camera equipment in hand, and you're threatening homeland security. Serious stuff. You may be escorted in by the Coast Guard and then boarded, questioned, detained and background-checked.
The warm-water discharge area is not as sensitive because it's impossible to send anything in against a 10-knot current. However, when you catch that prize fish and want to photograph it, do so as quickly and unobtrusively as possible. It's a bad idea to stand there and take a series of pictures that include the plant. Security personnel may quickly become suspicious and may even seize your camera or cellphone for concern you've recorded classified material.