Posted by Captain Tom Migdalski on 17th Jan 2021
A Q&A with captains who explain how to avoid paying good money for a bad trip.
Guided fishing trips aren't cheap, and when making the most of your vacation time you need to do some homework to insure a great experience.
"If booking a guide," says Captain Hal Herrick (nantucketfishing.com), a pro of over 40 years fishing Nantucket Island waters, "one concern is his personality and whether you'd feel comfortable with him for up to 8 hours a day. Don't be as concerned with his reputation of being a great fisherman—it's his manner and respect for clients that are most important."
How do I find a fishing guide?
"An online search is one option," says Captain Chris Elser (ct-fishing.com), a pro with over 40 years of experience fishing western Long Island Sound. "Or speak with a local tackle shop and ask for references or read regional fishing magazines where captains like myself contribute articles. To verify credentials, ask a captain to email or text you a copy of his or her charter fishing license or Coast Guard credential."
Request contact information for references from the guide, and then ask those anglers about their day with him or her. If the guide doesn't have any names to share, it's a red flag. You should also determine if the guide is fully insured.
What questions should I ask the guide?
Captain Herrick suggests asking what types of fish you would be targeting. You should also ask what fishing methods and tackle the guide uses so they're in line with your desire and skills.
"I'd check the type and size of the boat and age of the motor," says Captain Dixon Merkt, a retired pro out of eastern Long Island Sound with over 50 years' experience. "I'd also ask about recent fishing reports, what are the best times and tides, what is his position on catch-and-release, and how far must the angler be able to cast light tackle or a fly."
Captain Elser says that if you're not committed to a certain date it's best to ask the guide the best time to fish for your desired species. Then the guide will offer dates available based on tide, time of day, moon phase, and season.
What about tipping?
Those in the customer sportfishing business expect tips.
"It's standard in the industry to offer a gratuity of up to 20 percent for the captain and mate," says Captain Elser, especially if you feel your guide has gone above and beyond to try to put you into fish."
How do I plan a trip?
Plan and book your trip as far in advance as possible, even up to a year ahead, especially if the fishing is good at a certain time.
"One June day we released 60 striped bass on light tackle," says Captain Herrick. "The biggest was 38 inches. The angler immediately booked a trip for the same time the following year."
Captain Elser says that the best timing is solely based on the species you're targeting, and the guide will know and offer suggestions.
What are the guide's responsibilities?
The guide's number-one responsibility is safety. Additionally, a guide should meet you on time, have quality gear, and assist you in any way to make it a great experience.
"The guide's responsibilities," says Captain Elser, "include your safety and comfort by ensuring he or she has the proper equipment onboard. It's also the guide's duty to supply quality tackle, lures, rods, reels, and bait based on the target species."
Captain Herrick's charters include fuel, tackle, ice, water, sunscreen, and cleaning and bagging your catch.
What is expected of me?
Explain to the guide what you're looking for from the trip. For example, are you after quality or quantity? Do you expect to enhance your expertise? Do you want to become more familiar with a body of water? Are you looking for a family experience?
It's never expected but always thoughtful to offer to provide lunch, snacks, and non-alcoholic beverages for the captain (and mate). And if you wish to photograph a fish before its release, be organized, have your camera ready, and keep the photo session short to give the fish the best chance for survival.
"I appreciate timely client arrival," says Captain Elser. "And it's important to wear non-slip, non-marking footwear for the deck; also bring proper and warm clothing, even in summer. Most captains frown on alcohol and smoking on the boat."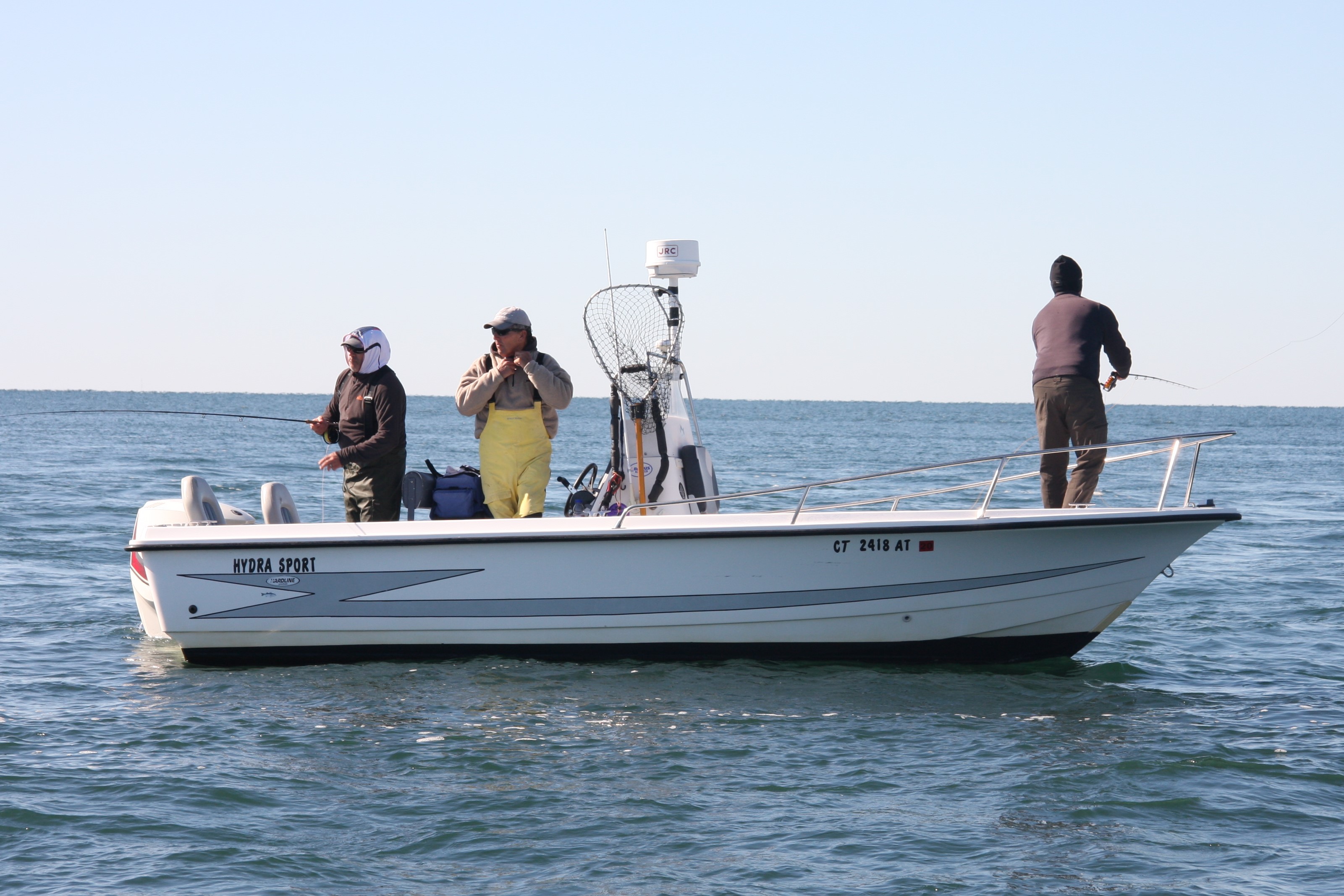 What about poor conditions?
A good guide can't always produce fish but always tries to please.
"I try my best to have you catch fish," says Captain Herrick, "but there's times when the fish just don't cooperate. On slow days, I make a sincere effort to show my clients as good a time as possible. For instance, I might take them to areas where there are numbers of wildlife to see and photograph. My clients are understanding of the days that are slow fishing and still enjoy the trip."
Captain Elser says that the captain should contact the client a few days prior to the outing to discuss the weather outlook and if poor conditions could make fishing difficult or impossible. Ask or check the guide's website for his or her weather cancellation policy.
What are guides' complaints?
Guides and charter captains have many more complaints about poor clients than the other way around. Primarily, they want you to act safely, responsibly, and be understanding of the guiding profession. Don't arrive late to the boat and then start drinking—guides want you fishing, not boozing. Understand that fishing can be unpredictable and disappointing even for pros; don't take it out on your guide by having a bad attitude.
Captain Elser's number-one complaint is when clients show up late, followed by customers who bring more people than expected. Last, wearing damaging footwear that marks a white, non-skid deck, which is tedious to remove.
Captain Herrick sums up his feelings toward unappreciative customers this way: "Those clients who continually ask, 'why aren't the fish biting?' get passed onto another guide for future trips."
Can I keep my fish?
Whether or not you can keep your catch depends on regulations and your guide. Most guides prefer catch-and-release to preserve the resource. Never ask or bribe your guide to break the law to keep illegal fish—you're jeopardizing his or her livelihood.
"Discuss keeping fish before the trip," says Captain Elser. "If you'd like fish for the table, ask if you can devote a portion of your trip to targeting the better-eating species like black sea bass, fluke, and porgy. The client should have a cooler with ice in their vehicle for after the captain cleans their catch. The captain is responsible for keeping the catch fresh while on the boat."
What about tackle?
"I don't recommend anglers bring their own tackle," says Captain Elser, "unless we discuss it in advance. Lures and tackle are part of a chartered trip and are species specific. For example, when targeting early-season gator bluefish in the Long Island Sound, I use rods that enable us to cast unweighted soft plastics like the Game On! 10-inch Big Occhi, which is deadly for surface-finning, pre-spawn bluefish. As the season progresses into September and October, I scale down the tackle to cast smaller Game On! EXO Jigs to Spanish mackerel, false albacore, and bonito; this requires lighter lines and leaders with fast-action rods, and reels that can handle a scorching drag when a large albie makes its first run.
"Broken rods and reels should be covered on a guide's insurance but often the deductible isn't worth submitting a claim, so it's a nice gesture to offer money if you did something inappropriate that caused the breakage of a $200-plus rod, like resting it on the gunnel while fighting a big fish."
Can I bring kids?
"This policy should be discussed up front," says Captain Elser. "Young children can be comfortable fishing on certain boats with the right captain, and most captains are honest if they have the setup and willingness to take young children. I prefer children at least 8 years old, but I have made exceptions for porgy trips in ideal weather conditions."