Posted by GAME ON on 17th Sep 2020
Schoolie Bass Make for Hot Autumn Action
Story and Photos by Capt. Tom Migdalski
The seas were glassy as friend Vince Battista and I charged out of the Niantic River from the Connecticut shore. We ran southeast through Niantic Bay, rousting clusters of gulls off the water, which were clearly resting there between surface blitzes. The late summer air was a comfortable 75 degrees—just right for pleasant fishing conditions.
After only a mile into our journey, we spotted a frenzy of busting striped bass and diving birds. Circling around, we pinpointed the edge and direction of the action, killed the motor, and coasted into casting range. Moments later, Vince—a diehard flycaster—jumped up on the bow platform and heaved an intermediate, 9-weight fly line into the melee while I grabbed my go-to light spin outfit.
"Fish on!" said Vince, as lifted his rod tip high. "How come I always hook the first one?"
"Somebody's got to run the boat," I replied with a smile as I cast and quickly set-up on my own schoolie bass. "We're doubled up! Man, this is great."
And it was great. We were drifting across a non-descript nearshore patch of water that held a mass of small stripers frothing the surface like a giant cappuccino. Almost every cast brought a hit—often missed—until the fished ghosted into the depths, only to resurface again 50 yards away, at which point we gave chase. We spent the next three hours running down pods of fish and working birds—a truly memorable outing.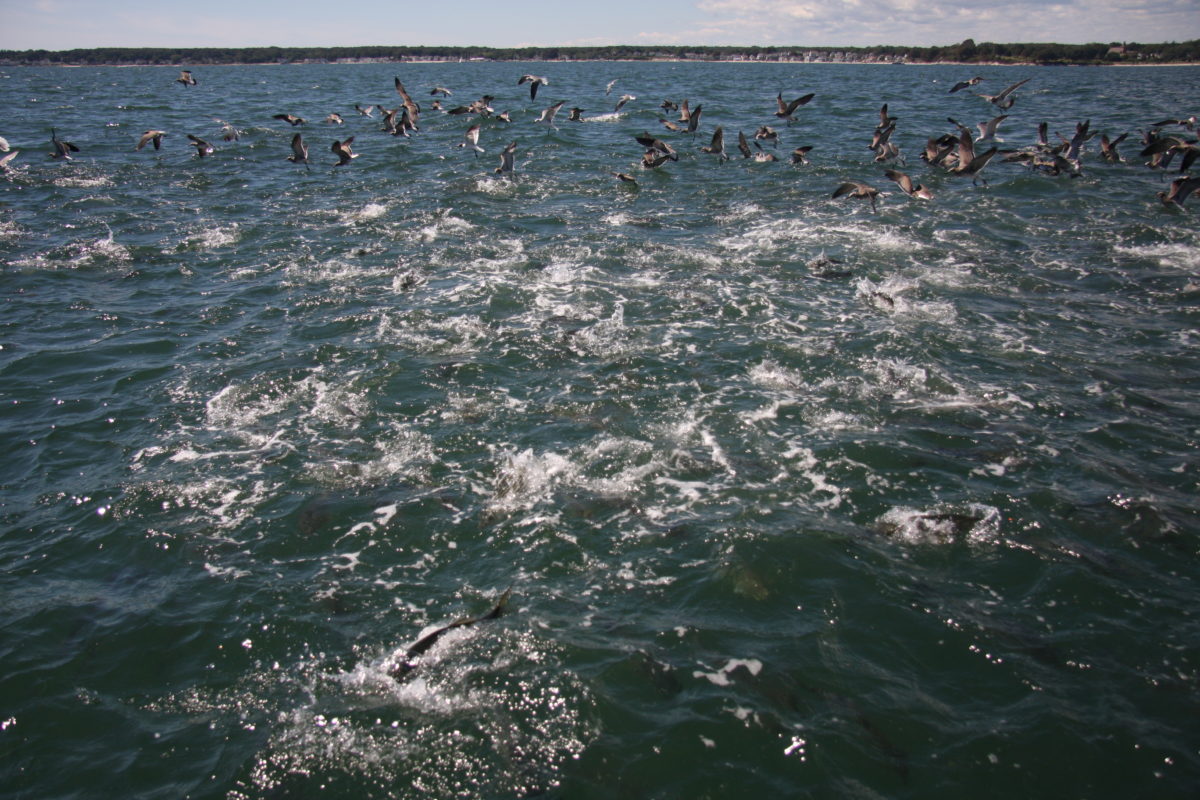 The Schoolie Story
"Schoolie" bass earn their nickname because small stripers feed and travel in schools. Once they reach the 3-foot-long range they gradually become more independent, and true trophies or "cows" are solitary, opportunistic predators.
"When the bite is on," says Captain Dixon Merkt (ret.), who guided out of Old Lyme, Connecticut for 40-plus years and now just fishes for fun, "the number you can catch is almost unlimited. But you're not casting to individual fish, you're seeking schools where you get hits cast after cast after cast. These bass are cookie-cutter fish where volume is your objective, not size. Reports of two anglers releasing 75 to 100 fish on one tide aren't uncommon, especially later in the season when they're feeding heavily before migration. They become less selective and the baitfish become bigger as time goes on."
Unlike other inshore species in southern New England, such as bluefish and false albacore, schoolies—commonly defined as stripers of 14 to 28 inches—although 30-inchers are sometimes mixed in and considered a prize—stay active well below the magical-cutoff 50-degree water temperature in late fall. This is a largely untapped sporting opportunity for anglers looking for some late-season action to replace dwindling numbers of cool-water species like cow bass, winter flounder and blackfish.
Anglers, guides and biologists have observed a recent and troubling decline in big bass numbers since their huge resurgence about 20 years ago. Several factors are implicated—but not all proven—including black market harvesting, excessive commercial landings, lack of menhaden due to commercial exploitation, mycobacteriosis disease, a shift in migration patterns, growing predatory seal populations and climate change.
On the Spin
Although fly fishing is the ultimate sporting challenge, spin casting allows faster and farther casts, so it's always good to have at least one guy in the boat slinging lures.
I like the 2.5- and 3-inch EXO Jigs for schoolies, which closely resemble various small baitfish that are primary nearshore forage species in bays and estuaries. EXO Jigs cast well in a stiff breeze, and hold up well when small bluefish are in the mix. They're also shatter resistant, which is helpful because schools of small bass will crash baitfish right into shoreline rocks, and an errant cast won't break a lure when it accidently strikes structure.
"If the fish are on tiny feed, fussy, and you're therefore not having much success with a standard lure," said Merkt, "I suggest tying a dropper fly off the main leader. It simulates a larger baitfish chasing a smaller prey, and sometimes increases productivity dramatically. The fly will often out-produce the lure. And sometimes you'll get doubles on the same rig."
The advantage of a dropper is that you have the EXO Jig for the distance casts, especially in the wind, yet you can still get a small offering (the fly) in front of fussy fish. For flies off droppers, Merkt likes chartreuse or olive/gray Clouser Minnows, which are weighted flies, or Deceivers. If you determine the fish are feeding on tiny bunker, you can tie on a bunny fly or bunker imitation.
For spinning outfits, Captain Chris Elser, a top-rated charter guide out of western Long Island Sound (www.ct-fishing.com), starts with a 7-foot Lamiglas TFX 7020 spinning rod with a Shimano Stradic 3000 series reel holding about 120-150 yards of 15- to-20-pound smooth, braided line. "For fishing the shallows," says Elser, "I like the hi-vis line options to assist my anglers in tracking their lure on a windy day. The action this year has been exceptional, and it should continue through the fall."
Down Deep
If you're on the hunt for schoolie bass but they're not showing on top, the most consistent place to find them is near the bottom on shallow reefs within about four miles of the mainland especially in areas like Branford and Guilford, Connecticut.
Pinpoint popular structures like at the Branford Beacon where the depth rises and falls abruptly. During a moving tide, motor up-current of the rip line while watching your depthfinder. When the reef disappears into flat bottom, cut the motor and drift back toward the rip line.
Free-spool a 4-inch EXO Jig until it bumps bottom, then immediately engage the reel. Retrieve it at a moderate speed about 10 cranks, drop back down, hit again and repeat. Continue drifting until you've cleared the hump and covered the down-tide side of the reef. Bass often strike as the lure flutters toward the bottom, so be ready for a quick set. This jigging technique is also deadly under bass schools working peanut bunker on flat bottoms, especially when they vanish from the surface. They're still feeding, but they're just not up on top.
A good jigging outfit is a medium/light-action, 6½-foot rod attached to a small conventional reel like a Shimano Tekota. Spool it with smooth, 15- to 20-pound braid, and tie on 2 feet of 25- to 30-pound mono leader.
Vince and I quickly lost count after 20 fish that late summer day, and spent the next hours fighting bass and motoring or drifting from one pod to the next, stopping only to change out abraded leaders or take a slug of iced tea.