Posted by GAME ON on 6th Oct 2020
False albacore turn hot in southern New England
Story and Photos by Capt. Tom Migdalski
False albacore, properly called "little tunny," and scientifically named "Euthynnus alletteratus," have several other nicknames but my favorite is "appleknocker," earned from their peak occurrence coinciding with when ripe apples drop in local orchards. Similar to its cousin the Atlantic bonito (Sarda sarda), false albacore are considered tuna but—like all other tunoids—are actually members of the mackerel family.
"Albies" are small by tuna standards; however, they pack loads of muscle into their 5- to 15-pound, bullet-shaped bodies. Passed off as trash fish years ago, they are now considered an exotic species and are highly sought by spinning and fly enthusiasts. They have a well-deserved reputation for elusiveness, fussiness, and for tearing off drag-burning runs on light tackle. Their flesh is dark red, oily and rich, but they're good eating fresh if immediately bled, gutted and iced, and if the dark core meat, skin, and fat are meticulously removed before grilling.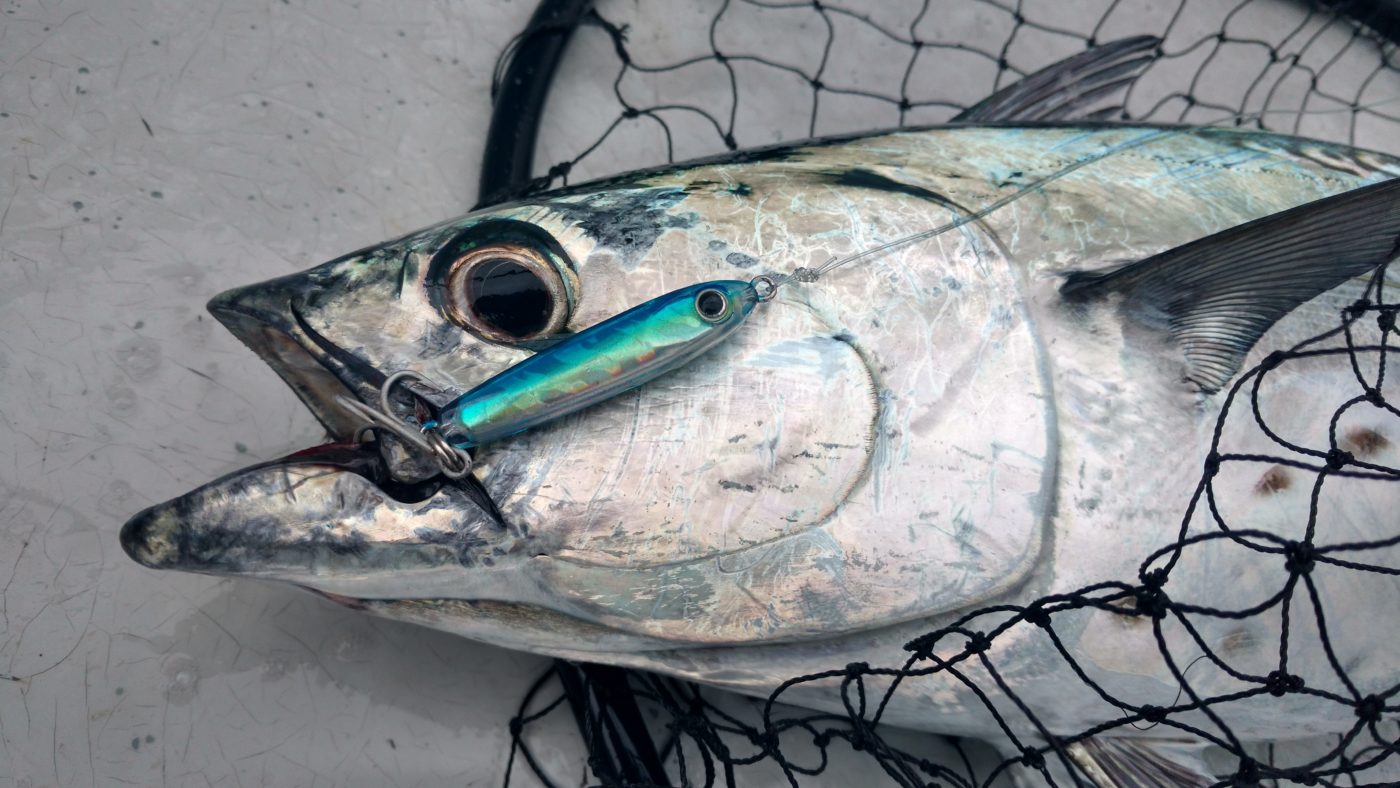 Hotspots and Seasons
One of the most reliable places to locate these little tuna is "Albacore Alley," a huge chain of islands, rips, and reefs at the eastern end of Long Island Sound and Block Island Sound. (For a top Block Island area guide contact Captain Chris Willi at sandypointco.com.) Starting around Point Judith and Watch Hill, RI and running southwesterly to Fishers Island, through the Race, onto the Gull Islands, over to Plum Gut, and ending beyond Orient Point, NY, this entire area is a recurring hotspot. Another arm of Albacore Alley carries along the eastern Connecticut coast from Groton's Pine Island to the Connecticut River in Old Saybrook. (For a top eastern Connecticut and New York area guide contact Captain Dan Wood at captdanwood.com.)
During bumper albie years, these speedsters continue to work deep into Long Island Sound in October as they follow bait past Guilford and towns farther west. I've caught them as late as Halloween from Branford to Stratford, CT. (For a top guide in western Long Island Sound contact Captain Chris Elser at ct-fishing.com.) They also extend much farther east through Buzzards Bay and out around Nantucket, MA. (For a top Nantucket area guide contact Captain Hal Herrick at nantucketfishing.com.)
"The Sound's perimeter waters hold a strong tuna fishery," says expert Captain Dixon Merkt (retired) out of Old Saybrook. "And it gets more exciting as the season goes on. The activity starts with bonito and Spanish mackerel in August, and then the false albacore arrive in mid to late September. In October, we sometimes get lots of albacore, which join the small bluefish and schoolie striped bass. It's a great a mix on light tackle."
How to Catch 'Em
Once you locate pods of false albacore—although they can disappear overnight—they usually stay in an area for days or weeks at a time while preying on tiny baitfish. Start by checking reports and then cruising the coast looking for working terns or gulls and small groups of busting fish up-tide of rip lines or along tide-swept points, coves, boulder fields, and beaches. Or just book a guide to help get you on the fall bite.
After spotting active groups of appleknockers, notably different from bluefish or striper blitzes because of their slashing—rather than circular—surface breaks, your first option is to "run-and-gun" them. This entails quickly motoring to a group and zipping out a few quick casts before they ghost back into the depths. When targeting such a school, pay attention to its track and cast just in front of it because they travel fast. Try rapid reeling, but if that fails to draw strikes vary your retrieve so the lure flutters like an injured baitfish, and even let it sink a bit like a dead minnow, which may draw a hit.
Another method is to simply cut the motor and drift near working fish. You can blind cast around the boat or keep your rod loaded and ready because the fish tend to work in patterns and will eventually erupt within casting distance. Some anglers slow troll lures or jigs as a locator technique, which can also be productive.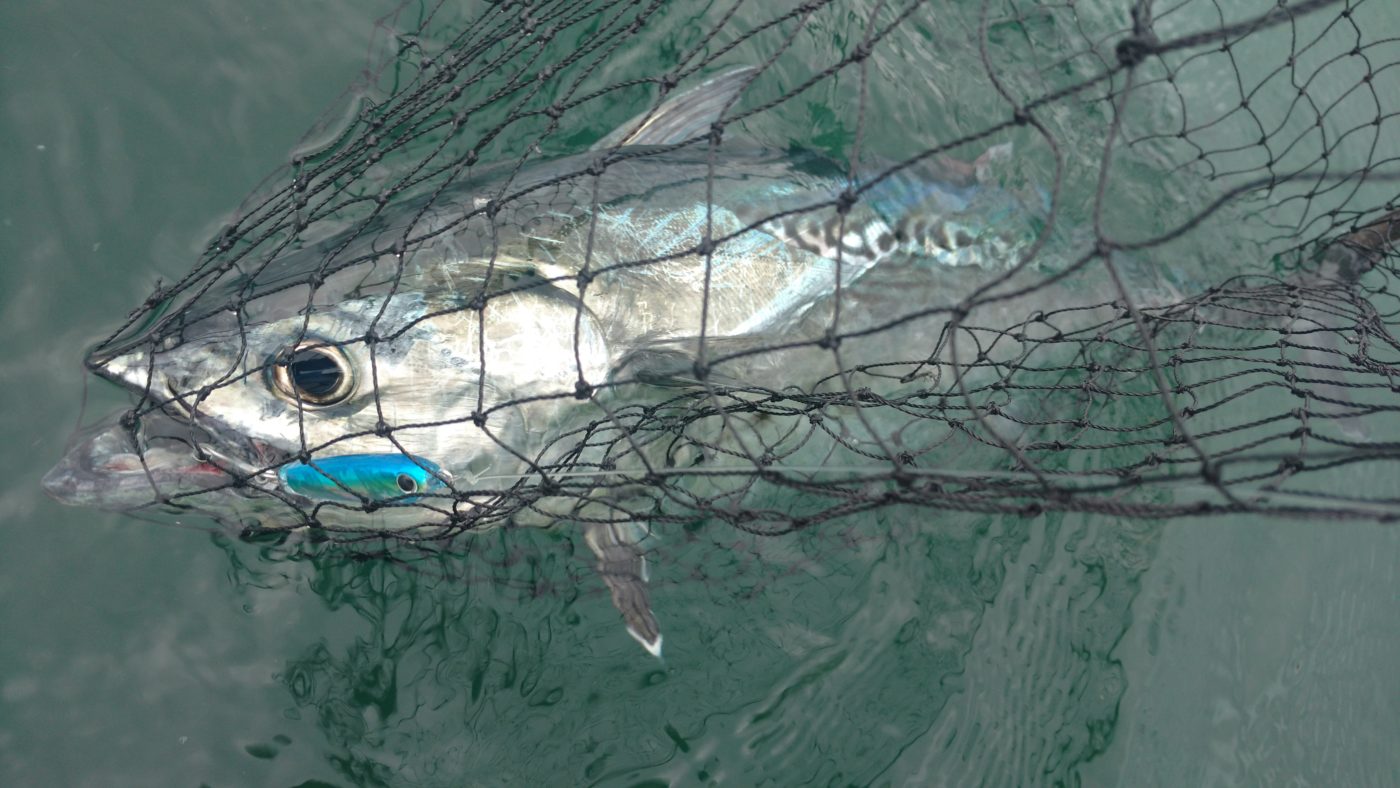 Showing your Metal
Albies target several types of baitfish, including silversides, peanut bunker, baby butterfish, juvenile squid, and bay anchovies. False albacore have keen eyesight and are extremely picky, which can be both frustrating and satisfying. Determining which baitfish are abundant at a specific time is helpful for selecting the correct lure profile and color.
I like the smallest (2.5-inch) EXO Jig for albies, which closely resemble various small baitfish that are nearshore forage species. To increase lure movement and help simulate a wounded baitfish, tie on your leader with a sturdy loop knot so as not to restrict its action. You may need to experiment with colors to determine what the fish react to that day, although silver and white are the best all-purpose starting points.
Key with the EXO Jig series is its VMC 4X-Strong Fishfighter treble hook. This hook is of a forged, thick, high-carbon metal featuring an O'Shaughnessy bend, which is impossible for a tuna to open during a blistering fight. It's also razor sharp. The 4X strong treble is attached to the lure with a substantial split ring, so there's no need to change out this hook before pursuing false albacore.
Other Tricks and Rigging Up
If lures fished alone don't draw strikes, try a trick by adding a dropper fly 12 to 18 inches ahead of the jig. Popular albie flies, whether used on fly rods or spinning outfits, include sparsely-tied Clousers, Deceivers, Bunnies and various small anchovy and epoxy patterns. Productive fly sizes are 2 to 3-1/2 inches in length tied on sturdy number 2/0 and smaller saltwater hooks. This technique allows you to make long, fast spin casts with smaller offerings when the fish are fussy on minute forage.
Captain Merkt says that you need to favor a light spinning outfit to cast such small lures. He advises using a matching, high-capacity reel with a quality drag filled with 12- to 17-pound mono or 15- to 25-pound smooth braid. For leader material, Merkt uses 12 to 18 inches of 20-pound Fluorocarbon because it's durable, stiff (helpful when rigging droppers), and almost invisible.
Although any high-quality, light- to medium-light saltwater spin rod works, the all-around best rod I've found for the challenge of casting to and fighting albies is the 7-foot Temple Reef Vortex V1 (templereef.com). Its medium-fast action can handle braid from 15- to 50-pound test, lures of 3/4 to 2 ounces, and has forward-sloped guides to reduce wind knots. The key is to invest money in a rod that can heave a light lure a long distance yet have the backbone to handle a big false albacore's freight-train runs. The same applies for a spinning reel—it needs to be a high-quality, matching 3000 series with an excellent drag system.
False albacore are the ultimate light-tackle challenge in southern New England. Once you've experienced the ripping surface splashes, working birds, challenge of hook-ups, and sizzling runs you'll eagerly await appleknocker time.